Television, Radio, Media & Satellite Distribution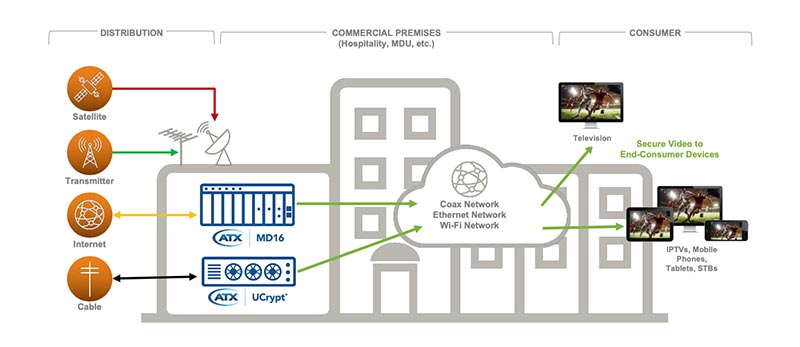 We installed our first, traditional coax-based television distribution systems way back in 1973. These days, we use the latest fibre optic systems to deliver digital television services to MDUs (Multiple Dwelling Units, i.e. hotels and apartment blocks), so residents can share the cost between dwellings for economies of scale.
From your brief or outline, we will plan the type of cabling system required and how it needs to function.
Typical installations
Projects typically include:
Distribution of TV, radio and satellite playback to media outlet plates
HDTV distribution
Central equipment rack
Fitting of TV/FM/DAB aerial array, satellite dish, LNB and distribution equipment
Coax, CAT6 and fibre cabling for distribution of HD video signals from various HD sources
Fibre optic cabling
Fibre optic cabling offers significant advantages for MDUs:
Saves on antenna and satellite space
No signal loss over long distance
Smaller, thinner than traditional coax
Cable containment is less intrusive
Easier to provide additional Sky+ multi-room points
Provides better flexibility in other rooms
Broadband and wifi can be overlaid on fibre on all points
An RF (Radio Frequency) distribution system to provide all TV positions with the current digital TV channels together with radio signals and the satellite channel selected from an appropriate satellite receiver.
Additionally all TV points are HDTV-ready and include the facility to receive Freesat, SkyHD and cable signals as required.
Your solution can also include the latest HDTV distribution system capable of delivering HD quality video output signals from your SkyHD boxes, video server, Blu-ray/DVD player and computers to your televisions and projectors, ensuring that these display the best picture possible.
Still deciding? Read our Why Us page.