Intruder Alarms
Intruder alarms alert workers and external services to intruders and other unexpected events, and allow appropriate and timely action to be taken. With CAI Vision, you can choose from a comprehensive range of wired and wireless intruder alarms, including products with high quality finishes that will complement any interior, together with accessories including keypads, detectors and sounders.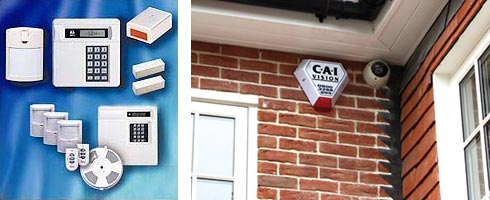 At base level, you can have a 'bells only' system. 'Bells only' alarms deter intruders and may alert passers by, but will not get you an automatic police response.
Insurers will normally insist that a remotely 'monitored alarm' is installed, where activation signals are sent to a monitoring centre and ensure the police are contacted on your behalf in the event of a confirmed signal. Signals are filtered for false activations, avoiding the risk of losing police response to your alarm.
At top level, you can have a fully police-monitored RedCARE system, with multiple 'dual tech' PIR sensors for ultra reliability, door contacts to all external doors, smoke/heat detection, and integration with your lighting system to bring on designated circuits inside your house upon activation of an alarm.
Systems can be tailored to your exact requirements. For example, we have developed very high security solutions for clients who have large pets and those who do not wish to have any detectors at all visible within their home.
Still deciding? Read our Why Us page.