Ambassador's Residence, Mayfair
Client: International Embassy, London
Installation of an integrated security system
Static day / night cameras

(PTZ) day / night cameras

Redwall movement detectors

PC based access control system

Comprehensive panic alarm system

Automatic fire protection system

X-ray machine

Due to the increased risk from terrorism, our client felt it was necessary to increase security at the Ambassador's residence. CAI Vision was chosen to design and install a system to assist the on-site 24-hour manned security.
maximum visibility
It was essential that security guards can monitor the complete perimeter of the building from the security office. We therefore installed a number of different cameras to achieve this.
We used static cameras to give high quality colour images during the day, switching over to high quality monochrome images at night when light levels are lower.
We also installed pan, tilt and zoom (PTZ) day/night cameras so the security operator can move a camera and zoom in on any suspicious vehicles or people as desired.
We integrated Redwall movement detectors with the PTZ cameras, so if there is any movement in an area, the relevant camera will automatically zoom in to that particular location.
All cameras record 24 hours a day onto a digital recorder that can store more than five weeks of footage.
Access control
Another important issue was to control the movement of staff and visitors in certain parts of the premises.
A PC-based Access Control System allows the Embassy to issue staff and visitors with proximity cards that act as photo ID cards and control area access at specified times. The system is able to provide a printout showing who has been where and at what time; this information can then be verified using CCTV recordings.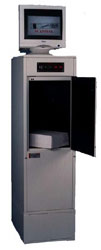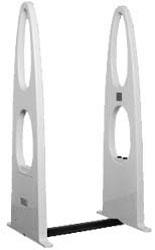 We installed an X-ray machine to check all post and parcels coming into the building, plus walkthrough and hand-held metal detectors to check all visitors before allowing access.
Alarms
We installed a comprehensive panic alarm system, including hand-held radio devices for raising the alert during an emergency.
There was also a concern about fire, so we installed an automatic fire protection system which incorporates smoke detectors, heat detectors, call points and sounders.
Challenges and discretion
Due to the superior level of decoration at the premises, this was a particularly challenging system to install.
We went to great lengths to hide cables and make the system as discreet as possible, even digging trenches in the rear garden to hide cables and other equipment.
The client was extremely impressed with the design and installation of the system, and greatly appreciated the care and effort we took, especially considering the difficulties of working within the confines of such opulent décor.
The client has since recommended us to others, saying: "The installation was carried out in a thoroughly professional and discreet manner with the minimum of disruption to the normal running of the Embassy".