Director's Penthouse, Dulwich
Client: Company director
We designed and installed a complete 'lifestyle' network throughout this prestigious penthouse apartment at Gainsborough Court, Dulwich.
Multi-room home automation/AV

Home cinema with retractable cinema screen

Multi-room mood lighting, automated curtains and blinds

Telephone, internet and data network

CCTV

Access control and video door entry

Intruder alarm

The project features multi-room television distribution with nine television screens and a 2.5 metre wide home cinema screen. The latest HDTV 50″ 1080P plasma wide screen was mounted on a specially designed rotating stand, allowing it to swing around to the dining table.
There is a 30″ screen in the bedroom that has a special swivel mount with a swing of 180 degrees, allowing the screen to be viewed from the bed or the balcony.
There is also a 'wet' screen for the bathroom.

MULTI-ROOM home automation/AV
A Control4 home automation system controls nearly everything! This was custom built to automate a number of different sources including 8 TVs, a projector and motorised screen, an imerge media server, blu-ray player, Sky box, radio tuner, Xbox games console, iPod docking station, NAS Buffalo drive, Icecrypt satellite receiver, CCTV access control and video door entry plus heating/thermostat control.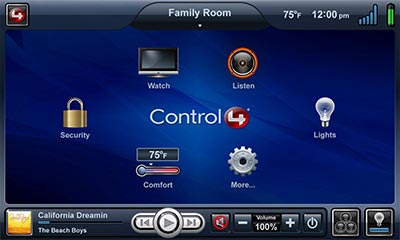 HOME CINEMA
Including a 2.5 metre motorised drop down screen, 7.1 surround sound with motorised directional speaker system, and a powerful active sub woofer, watching a film has now taken on a whole new experience that needs to be seen to be appreciated.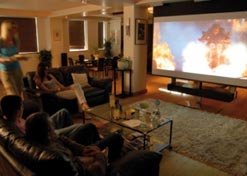 Multi-room mood lighting, curtains and blinds
Programmed for our clients various moods, the lighting can change at the touch of a button to suit his situation, be it playing pool, watching the latest blockbuster, or cuddling up to a good friend!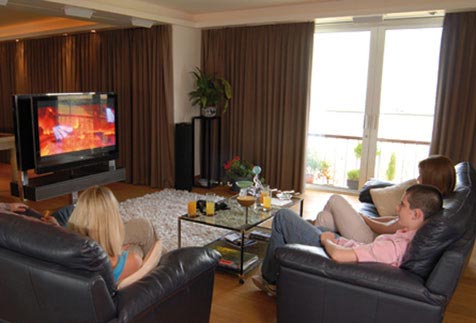 Gliding silently open and closed, the curtains and blinds are at the client's beck and call at the touch of a button.
SECURITY and DOOR ENTRY
CCTV has been specified, and recording is via a Digital Video Recorder that can be accessed remotely from anywhere in the world. The smart looking colour Video door entry system also controls the door locks for extra security. As you would expect, a highly sophisticated security system has been specified, the details of which it would not be prudent to go into here!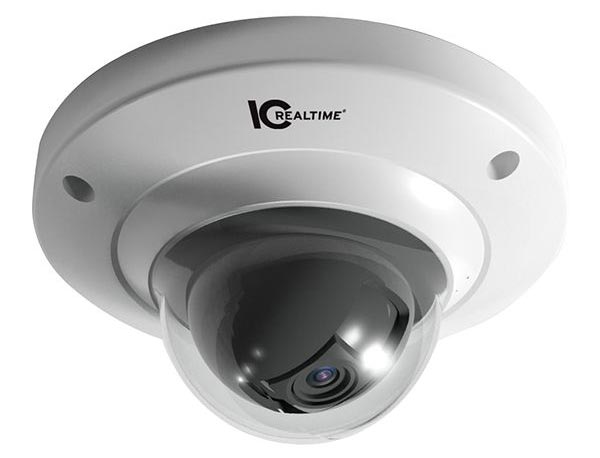 System remotes
Our client wanted to be able to control everything from as few remotes as possible, and amazingly, all this only needs only ONE controller to operate everything. The Control4 is a Zigbee enabled multi-functional controller that really does simplify the operational aspect of what could be a complicated custom installation.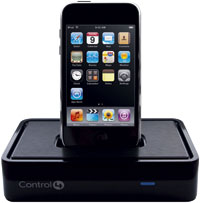 Out of sight rack mounting
All of the hardware is neatly contained in a special rack mounting system hidden out of sight in the office.
Hidden cabling
One particular problem was how to hide all of the cabling infrastructure, as the penthouse has a concrete ceiling and floor. Sue Fisher, the client's Interior Designer, designed a series of ceiling troughs to hold the network of speakers, cabling, lighting fixtures and the retractable cinema screen out of view.
Sue also designed the recessed mirrored HDTV panel in the gym area of the penthouse as well as the curtain pelmetting.